Regenassist Skincare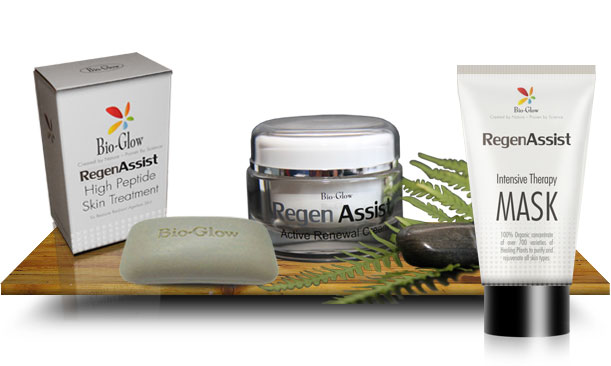 RegenAssist Peptide and Moor Based Skin Treatment


In keeping with the values of natural health, Bio Glow personal care products are designed to promote and support healthy skin.

Most cosmetics simply give the appearance of healthy skin by covering up imperfections. At Bio Glow, we believe in good nutrition for all parts of the body including skin, hair and nails.

The skin is the first barrier to disease causing pathogens. By feeding the skin and growing healthy new skin, you not only look great, but you support this barrier protection.

Peptides are short string amino acids, known to support and stimulate signalling to the epidermal growth factors and other components that stimulate growth of healthy skin

The Bio Glow skin care range includes Peptides and Moor as a key active ingredients to support healthy, good looking skin.
RegenAssist Skin Treatment is a new approach to a total skin treatment system.
Working naturally with products that support health from within "Colostrum MAX" and by skin treatments applied to normalize any skin type topically "RegenAssist"
Are you interested in anti-aging? Then colostrum is for you. Colostrum has many antioxidant and anti-aging components to keep you in top shape longer. It helps keep skin looking young and healthy. It removes dangerous free oxygen radicals, metabolic waste products that can cause you to age more rapidly. It supplies us with growth factors and other important substances that normally decline with age, leading to cell senescence and accelerated aging. Oxidation is the normal metabolism of nutrients in the body. As we age, we are less able to remove the by-products of metabolism resulting in high levels of reactive oxygen species (ROS), which results in oxidative stress in the tissues.
Our Skin treatment range is complete and meets everyone's time and budget constraints.
Our High peptide Skin Treatment Bar is a moisturizer-cleaner- detoxifier containing GHK-Cu, Copper Peptide and various other components. Scientific studies conducted in different research laboratories around the world have established that human tri-peptide GHK-Cu possesses a plethora of biological actions including activation of wound healing, attraction of immune cells, antioxidant and anti-inflammatory effects, stimulation of collagen and glycosaminoglycan synthesis in skin fibroblasts and promotion of blood vessels growth.
Lather your Regenassist Treatment Bar and apply its creamy treatment lotion to your face, you achieve in 2 minutes at home, the gym, or wherever you are what would otherwise take 40 minutes in a salon. RegenAssist Skin Treatment Bar gently detoxes, unblocks, clarifies and invigorates.
RegenAssist Intense Therapy Mask once a week to complete your skin care system. This black facemask is the very essence of the unique and precious Moor. Created by nature and unchanged by man, it comes to you in its pure form from the Moor where, for generations, it has been used by Europe's possessors of beautiful skin.
It will deep cleanse, stimulate, nourish and refresh your skin, leaving it tingling with that "come alive" feeling. Pamper yourself with this "at home facial" at least once a week - or whenever preparing for a special occasion.
RegenAssist Active Renewal Cream is a unique blend of natural active ingredients and high performance peptides designed to enable professional spa skin treatment to be experienced affordably in the home. It works by supporting the skin's natural internal rebuilding and repair system 24 hours a day. Radiance and glow is enhanced by revitalising and renewing its balance and structure to a Normal Skin state.
Our complete range puts you on your holistic journey to a quality of life of confidence and wellbeing not many people can achieve.
---
Showing 1 to 4 of 4 (1 Pages)